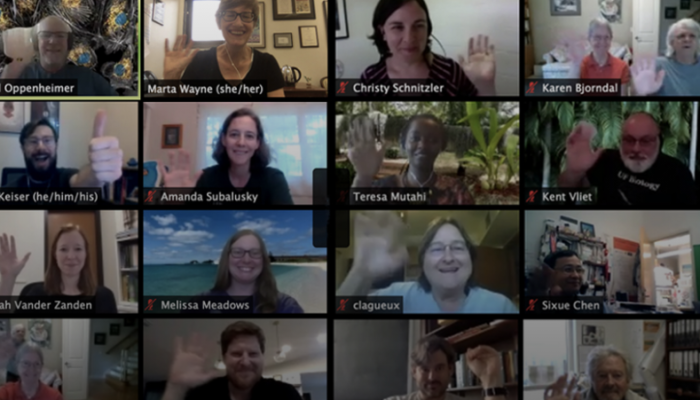 SYMBIOSIS — Biology Newsletter Fall 2020
SYMBIOSIS — Biology Newsletter Fall 2020
ARTIFICIAL INTELLIGENCE
UF recently launched a campaign to become a leader in artificial intelligence (AI) research and teaching. Learn about some of the AI projects already underway in the Biology Department.
AI and Stress Behavior
Does stress sometimes make you want to crawl into bed and hide under the covers? You're not alone. In many animal species, stress increases refuge-seeking and decreases exploratory behaviors. Dr. James Strother and his students examine the neural circuits responsible for these effects using zebrafish larvae as a model organism.
The team rears genetically modified zebrafish whose neurons fluoresce when active (pictured). This allows the researchers to record the activity of tens of thousands of individual neurons across the brain using multiphoton microscopy. AI-based machine-learning methods are key to analyzing this massive and complex imaging dataset. AI algorithms have also been used to identify a small region within the hindbrain that appears to play a central role in mediating stress-related behaviors.
Machine Learning and Tropical Trees
Biology PhD student John Park used machine learning to study leaf phenology, the timing of leaf production and shedding, of tropical forest trees in Panama. By combining time-series of canopy images acquired every 1-2 weeks from unmanned aerial vehicles (UAVs, or 'drones') with field observations, human image interpretation, and a machine learning algorithm, John succeeded in monitoring the phenology of more individual trees and species than previously possible. John's analysis revealed previously undocumented variation in leaf phenology both within and among tropical tree species.
Digitizing Herbarium Collections
Herbarium collections hold vast troves of largely untapped information on plant traits. To make these collections more accessible to the scientific community for studying problems such as the effects of climate change on phenology, the specimens must be digitized.
AI algorithms are being developed to interpret and extract information from these digital records, but a critical bottleneck is the availability of accurately annotated datasets for training the algorithms. One approach is crowd-sourcing: enlisting the help of volunteer citizen scientists. Of course, training these volunteers is also critical, and doing so during the COVID-19 pandemic is especially challenging.
As part of her dissertation research, Biology PhD student Laura Brenskelle compared the accuracy of datasets generated by volunteers trained in-person vs. those trained online. The two groups of volunteers were equally good at identifying whether herbarium specimens included flowers, unfolded leaves, and fruits. This shows that online volunteers can play an important role in generating high-quality datasets for AI-based analyses.
---
INTERNATIONAL DIVERSITY
"Brilliant minds and ideas are found in all corners of the earth, and the best science learns from, builds upon, and includes all of them." Marta Wayne, Professor and Chair
We introduce some of the Biology Department's international scholars to share their perspectives.
SHWETA CHHAJED, graduate student, India
"The diverse international experience has made me a more confident person. Due to this exposure, I have grown as an individual to a level that I am inspiring people to come to the US from India."
SHAMINDRI TENNAKOON, graduate student, Sri Lanka
"I have always felt welcome in the Biology Department. I have had the opportunity to gain extensive field experiences, develop and present my research, work with collaborators, participate in many professional development activities, and engage in outreach programs and mentorship activities."
DR. ANDREA GONZÁLEZ GONZÁLEZ, postdoctoral researcher, Mexico
"At UF, I have the privilege of mentoring undergraduate students, all of them US citizens with different backgrounds. I think they have benefited from learning about my academic journey in Mexico and here in the US."
DR. MAYA SAAR, postdoctoral researcher, Israel
"I came to UF Biology to learn molecular biology in depth and gain new tools for my future career. Studying a phenomenon from multiple perspectives is important, especially when solving a complex problem, such as managing pest ants."
DR. DAVID DUFFY, Assistant Professor, Ireland
"My international experience facilitates close collaborations not only with other UF faculty, but also with a network of sea turtle, wildlife and precision oncology researchers globally. This facilitates large-scale cross-border research projects, enhancing its scope and relevance."
DR. HUA YAN, Assistant Professor, China
Reflecting on his move to UF, Dr. Yan explained, "The intellectual breadth of research in the Department of Biology was very impressive to me. I thought this would be an ideal academic environment to study eusocial insects and establish collaborations."
This edition of SYMBIOSIS originally appeared on UF College of Liberal Arts and Sciences.
Check out more news about Biodiversity at UF.