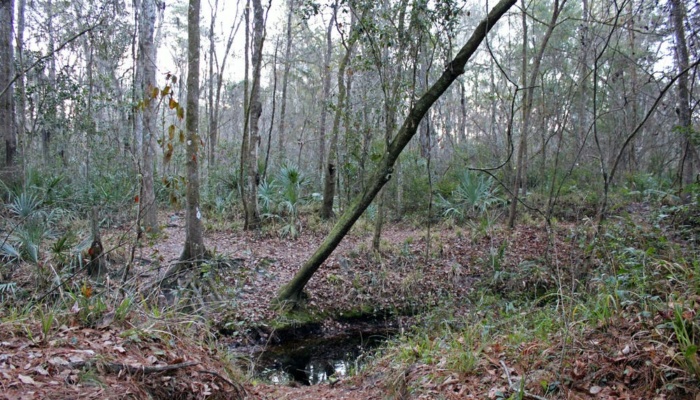 City approves urban forest management plan
City approves urban forest management plan
By Jack Prator
Managing Gainesville's urban forest is the next priority for the city commission, so it approved a robust plan just in time for Florida's Arbor Day.
Urban forests are trees and shrubs that live within a city, often in parks, landscaped streets, gardens and nature preserves. The 20-year plan, which got funding approved in 2019, is designed to keep Gainesville's urban forest abundant, diverse and healthy, while also protecting it from development projects.
Gainesville's tree cover also helps energy savings during the summer. Florida's trees save cities $4 billion a year.
Liliana Kolluri, city environmental coordinator, said the project is made up of seven goals to improve the beauty of public spaces chosen by the Public Committee on Urban Forest Sustainability. Native plants in landscaping, tree shade at every bus stop and parks and trails within a 10 minute walk from any home in Gainesville alongside more than 70 other policies are named in the plan. A group of 11 residents helped keep the policy community-centered, Kolluri said.
City staff began surveying 739 residents in 2019 and found that about 90% of those surveyed felt the urban forest was very important to the people of Gainesville. The city commission approved the plan with a unanimous vote on Jan. 7.
"When you ask people who come to visit Gainesville or live here what they like about it, everyone talks about our beautiful trees and all the vegetation everywhere and our nice parks," Kolluri said.
Every five years, the Gainesville Tree Advisory Board and the public committee will reassess the plan's progress. This, alongside annual reports, will help mark progress and hold the city accountable, although the project does not have a strict timeline for completion, Kolluri said..
"There is flexibility in what order we approach these," Kolluri said. "And it just really depends on the resources needed and the time needed to do some of these specific actions."
Though the plan was expected to be finalized in December 2019, it wasn't approved until Jan. 7.
In the summer of 2018, Kolluri said the project fell in her lap after Gainesville's arborist, whose job is to maintain the urban forest, moved away. The city went through three arborists during the project's development.
The COVID-19 pandemic interrupted the in-person meetings Kolluri's office had with city managers and technical staff working on the plan, she said. After finalizing the proposal through online meetings, her team was ready to present it to the city commission at its last meeting of 2020. But it was pushed off the agenda by higher-priority policies.
While the plan had been in serious development for two years, it's inception was back in 2016.
UF IFAS professor Michael Andreu contributed to the 2016 Gainesville Urban Forest Ecological Analysis, a report requested by the city's parks and recreation department in 2014.
The report found that Gainesville canopy cover reached 47% of the city, referring to the ground area that is directly covered by trees.
He said the plan was based on a similar urban forest management plan that he helped develop in Tampa. Tampa's tree cover diversity has a lot of invasive species and differs greatly from Gainesville and required a very different approach, he said.
"Our forest really does a great job of reflecting sort of what the native forest in the surrounding areas look like," Andreu said.
Andreu said the plan split Gainesville into different land use categories, with specific goals for each area. This is necessary due to the size of Gainesville's urban forest, which is one of the largest in Florida.
"It's a very progressive plan and certainly, it includes aspects of how do we maintain tree health," he said.
Contact Jack Prator at jprator@alligator.org. Follow him on Twitter @jack_prator.
This story originally appeared on The Alligator.